EDIT: This is my first attempt on doing a "TECH" so, as I go along and find topics that are important, I'll add and edit.
After searching thread after thread and not finding much help and Trent helping as much as he could, I decided to put together a thread on trouble shooting a magneto.
As Trent said, "They are pretty simple and dependable." He's right, when they work, when they don't....Well, it's head scratching time.
OK, here is the Magneto that I am using on my build, SOLO.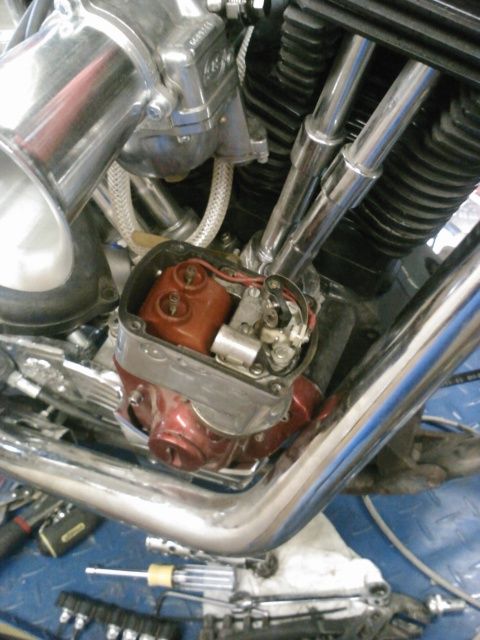 Ya this is a learning curve thing.
After doing a hell of a lot of research I've found out that I have a Joe Hunt Magneto on a Morris Magneto cam chest cover with a Morris Magneto bake lite cover, kinda a mix and match deal.
If you look close at the pic, on the front of the mag there are holes for screws, these hold the coil in place on the forged Hunt style mag case. Although I've never been inside a Morris, they tell me that they have internal screws that hold the coil in place.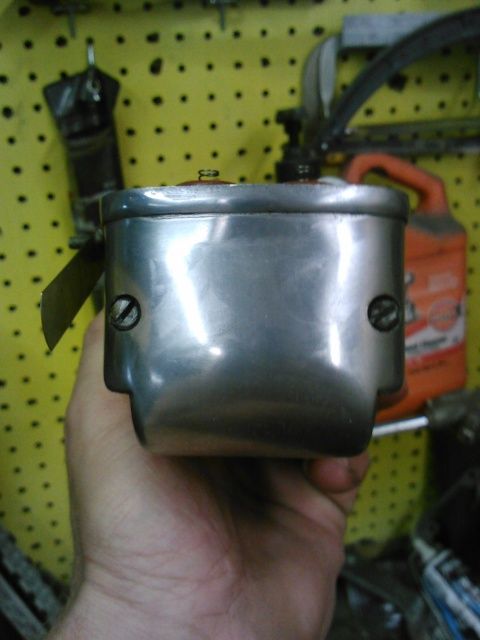 A diagnostic tech tip page.
Testing Output with Magneto Installed & Timed:
Leave spark plugs in to maintain a compression stroke. Since the engine will tend to snap through once the compression is overcome, this will properly time magneto thrust cycle. NOTE: Bear in mind that testing without spark plugs installed, along with testing by hand-spinning a removed magneto, may give intermittent output results, since the magneto cycle is begun at a random point.
​
The above does not apply to the fully automatic M5 and G5 type magnetos, since they are self-timing and self-thrusting at Iow speeds. battery, to the magneto's kill stud can damage coil and/or rotor. Physically check for cracks or leakage (burn spots) on coil, Setscrews holding coil in housing should be snug. Coils are typically either "good" or "dead" Primary coil resistance (wire to ground tang at core) should read around 0.3 ohms. Secondary resistance should read around 13,000 ohms. You will need a meter capable of reading very Iow resistance (tenths of ohms)
Magnetic Rotor: Constructed using alnico and/or rare earth magnets, a very 'permanent' magnetic material. While unlikely, 12 volts to the coil (as outlined above) could damage the rotor's magnetic charge.
The magneto's secondary high-voltage coil is "floating": ground is only used to complete the circuit between the spark plugs. Therefore, spark occurs between one spark plug wire and the other. Use spare spark plugs tied together, or a bridged gap of 0.200 inch (5 mm) or more, to test for sufficient starting voltage. Bear in mind, the slower the motor and/or magneto is turned, the lower the voltage output. We normally test output at a constant speed of 400 engine RPMs, using an oscilloscope to measure voltage. At that speed, output should be a minimum nominal 15,000 to 20,000 volts NOTE: Never run magneto at high speed (lathe, drill press, etc.) without a secondary electrical path; internal cap or coil carbon-tracking can result. Condensor: Can be shorted (no spark), open, or of diminished value, thereby lowering output and/or point life. When in doubt, swap it out. We recommend replacement when points are replaced, as preventative maintenance. OEM type recommended.
Points: Typical life 8,000 to 10,000 miles (15,000 km), unless point itself loosens in holder, or points become pitted or contaminated. Normal service finish is dull gray. The A/C spark at points helps 'burn' themselves clean. NOTE: Resistance, causing no or Iow output, is often the inadvertent result of someone doing a poor points-dressing job. Replace. only with OEM type points.
Morris Magnetos are non-vented units; best results in keeping moisture out are with an uncracked stock type Bakelite cap and cork gasket. Inspect carefully. Keep in mind that if water gets in, it will have difficulty getting out. Additional water may lay on the bottom, under the coil
Component Check:
Other check-points: Disconnect kill wire from stud to isolate any rubbed-through wires, grounded switches, etc., which may be grounding out magneto. Also, note that points leaf spring comes close to one of the points plate hold-down screws: ensure that they do not touch. Typically, this will happen if leaf spring is bent downward, or if wire terminal crimps are stacked, causing the spring to be bent inward when cap is installed Coil: Normally long life. A connection of the motor- cycle's 12 volt system, particularly if you have a battery, to the magneto's kill stud can damage coil and/or rotor. Physically check for cracks or leakage (burn spots) on coil, Setscrews holding coil in housing should be snug. Coils are typically either "good" or "dead" Primary coil resistance (wire to ground tang at core) should read around 0.3 ohms. Secondary resistance should read around 13,000 ohms. You will need a meter capable of reading very Iow resistance (tenths of ohms)
Email

[email protected]
​