Okay, I said I would post it so here goes. Don't reply or comment until I'm done. Thanx!
The topic:
Get your Triumph Hardtail Aligned correctly
What you need:
-A motorcycle and hardtail
-Long, accurage straight edge
-a buble level with a straight edge
-string
-couple of heavy weights (concrete blocks will work)
-general handtools
-drill
-hand file
-couple c-clamps
-LOTS OF PATIENCE!!
The ultimate idea here is to get your chains running true and your bike going straight down the road. In this case a late model (duplex frame) Pre-unit Triumph frame and drive train were the lab rats. An MAP cycle hardtail was used and was perfect for this article because it had a lot of problems right out of the box. Thankfully it was welded square, but the holes were simply jigged and drilled wrong somewhere along the way. The result was a hardtail that was throwing the wheel to the left causing mis-alignment in the rear drive chain. Here's what was going on and what SHOULD have been going on.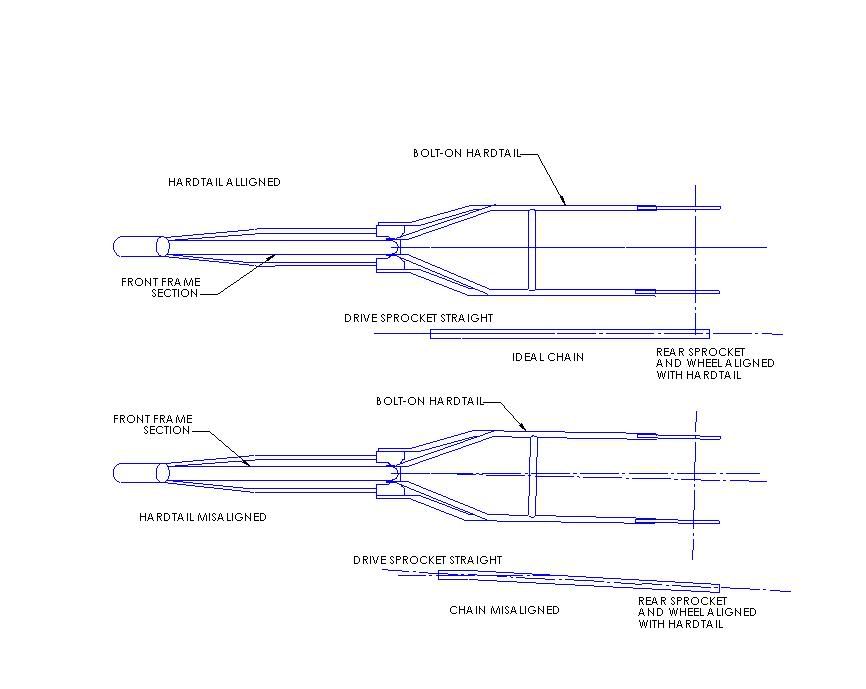 The drawing is not to scale, but gives the general idea of what the problem is.
Now, how to fix it. Overall the concept is pretty simple, but took some thinking of how to do it without really taring things apart.
First thing is first. You really need your motor (or motor and trans if pre-unit) to be in the frame and have a good drive chain and the wheel installed with all the correct components.
Next, get the bike in a solid position by any mean necesary. If you have a pre-unit, make sure your trans mainshaft and crankshaft are aligned parallel so the primary runs perfect (not covering that here). This will be important so the drive sprockets can be parallel.
Next, get the bike level and plumb. Use an engine component that you know needs to be perpendicular or parallel with the rear axle. In my case I used the crank shaft. I know ultimately it had to be aligned with the rear axle. Once the bike is plumb you can use this to get the alxe level and the hardtail plumb. After things are level and plumb, pick a spot on the motor or primary that you know will be in-line with the rear drive chain. This surface will be used to set up your string.