I'm probably nuts and might wind up over my head, but screw it. I had the tank, and decided to chop the thing up.
Anyway I got a tank off an FXSTI that wound up getting dumped at a dealership, and was told.. have fun. So I am.
I decided to split the tank and pull ~1/4" out up front and 3/4" out from the back of each side to give the tank more of a tear drop shape versus the more squared off stock shape.
I do have the other side off now as well, along with a bit more done on the shaping of the invert tear drops, but this should give you a general idea.
I started my layout by staring at the thing and somehow came upon the conclusion that I was capable of doing it first of all, and I could make it look better than stock without making a major change to the overall shape, as I do like it, it's just too squared for my tastes.
With this tank I decided to pull about 1/2" total width out of the front, without messing with the width of the tunnel, or the gauge mount pod area - as if it does get run I will run the speedo in that location, so I decided to say fuck it, go against the true chopper wisdom, and kept it. I decided to split the tank apart near the seam about 1/2" over from the tunnel start and run that line straight back and taper out to about 3/4" width for the pie cut that will be removed, thus sectioning the tank. I was an idiot and didn't take pictures of how I laid out the bottom, as I just plain old forgot. I'm still not positive I did it the "right" or easiest way, but I think I can get the fitup to work on the bottom and get her sealed up fairly well once I start throwing it back together.
Splitting the tank I used a 3" cutoff wheel and went at it. The cut line in this pic is rough, but I was able to clean them up and get them right to where I wanted with a grinder, I just don't have pictures of that uploaded.
Sometime this weekend I'll update with more pictures of how everything is going together once I finish up caving the sides and get it tack welded together (if it works.. lol) and start the finish welding.
Anyway, I cut the tank halves apart and then started to fix the crease above the big dent. Got that out, using the last out first in school of thought. I just used your typical beater bag, body hammers and dollys. I still have some final work to do, however it was close enough for now that I got somewhat impatient and started the layout and beating in of the tank side.
Ignore the somewhat sloppy cut. My initial cut looks like crap, because well.. it is.
Anyway.. this is what it looks like once the tank half is moved in, and the pie cut section has been removed. Gives a decent idea of what the final shape will be - hopefully.
I took this pic before loping off the other side, just to make sure I was on the right track.. once it looked like it would work in theory I hacked off the other side.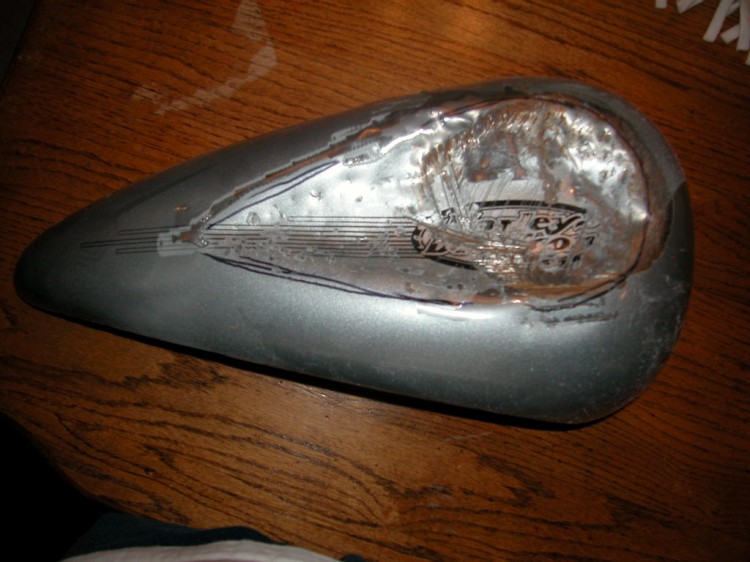 With the tank caving I did it real back yard garage like, using a few body hammers, a ball peen hammer and a big bag of sand. The sand I used to support the tank half, and just worked my way around beating the tank half starting to shape and form the steel into the desired tear drop. Still have a ways to go, but the basics are starting to be visable.
That's where it stands right now.. I'll have more updates as they happen, and as I get time to type them up.
Any suggestions would be greatly appreciated, from your f'n insane just give up to insight on the final fitup / welding of the tank and how to pressure test it. I'm thinking 10-15psi of compressed air submerged in a water tank before dressing the welds, and then again after cleaning up the welds??