Over the last few weeks I've been up in the Sierra foothills hunting down parts for my little 50cc Honda Mini Trails and have "stumbled" upon two rare Brit bikes that have piqued my interest, but like many of you, cash is real lean right now.
The first is a
1970 Triumph Bonneville T120RT
. I was looking at some parts bikes and spotted this Triumph roller sitting aside a shed. As I got closer, it was clear that it was a 1970 that looked to be in very good condition, aside from the engine and other bits missing. I kneeled down and inspected the frame number and that is when the owner told me it was an "RT" making it as one of only 200 Triumph 750cc homologation specials. I looked for the "RT" on the vin tag but it was difficult to read clearly as it had been repainted and the light was poor.
I got to talking to the owner and he is not a motorcycle guy, but rather a guy who is into buying and selling anything he can turn a buck on and got this in an estate sale. As I peppered him for information, it became clear that he was aware of the limited nature of the bike. He then told me that he had several totes in the garage filled full of parts including the engine...I had to see.
He opened the door to reveal a meticulously restored 1970 Ford Torino 429 Cobra and a nice 1956 Ford F100. There were parts here and there and dozens of boxes and totes. He pulled a couple over and I had a look.
There in one was the entire bottom end with the extra special "RT" stamp, or rather just a special "T" at the end of the vin. From the scope of the parts, it looked as if the previous owner had set about restoring the bike and simply quit...there were restored parts, some NOS stuff, boxes from Rabers.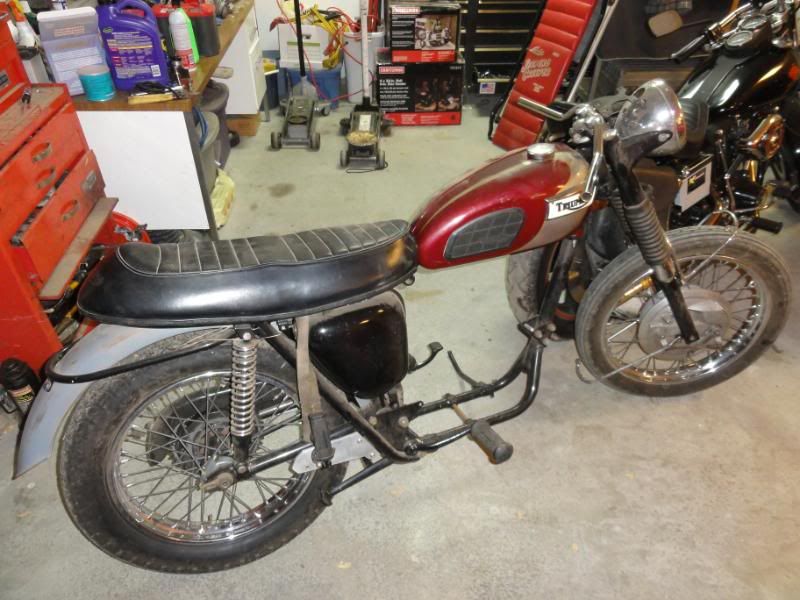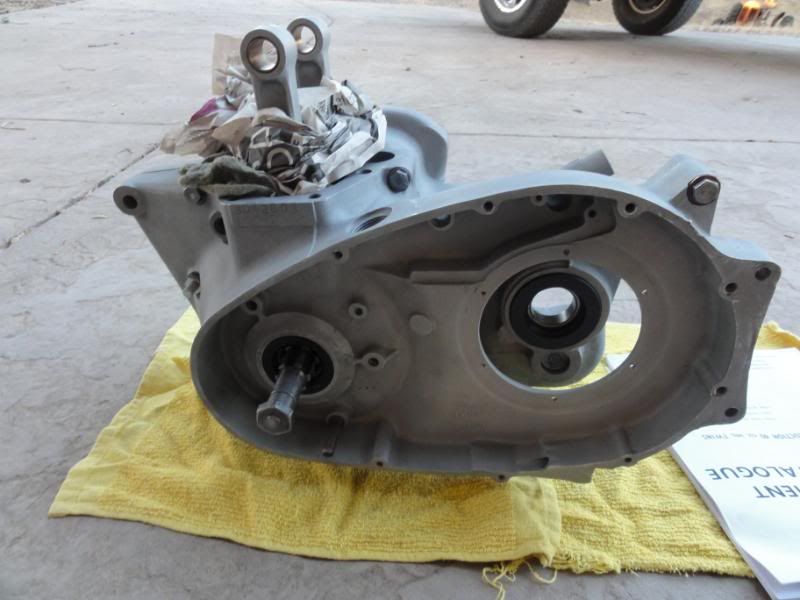 Light was fading fast and I needed more time to take everything in so I came back the next day with a camera and a '70 Triumph factory parts book. Looking for a particular part in a pile is easy compared to looking for what is missing so I snapped pics and checked off everything. Overall, everything looked well and it was mostly there with one notable exception, the Routt 750cc cylinder. There was a cylinder, but it was a run of the mill 650cc piece. The numbers on the motor cases matched the frame and matched right to left.
In a nutshell, Triumph had Sonny Routt build the overbored cylinders and Triumph installed them on completed bikes once in the States.
I made an offer but no go.
Then, the following day I was not more than 15 minutes from the Triumph when I spotted something in the dark recesses of a garage. It was an OIF roller. I drew closer and gave it a look. It turned out to be a
1971 BSA A70 Lightning
. Incredibly enough another one of 200 homologation bikes allowing BSA and riders like Dick Mann to run a 750cc.
As opposed to the Triumph method of getting to 750cc by increasing the bore diameter, BSA chose to increase the stroke.
The current owner also knew the "rareness" of the bike, but also like the Triumph owner, was not into Brit Bikes and had no real intention of ever doing anything with it. He had all the parts, I checked out the engine and the numbers matched. He also said that he had the title and many more original and supporting documents form the dealer.
After I made a deal for a couple of hardtail minis I asked again about the BSA and received a starting price. It was exactly what the Triumph guy wanted for his...damn! I just didn't have the cash.
It was certainly an experience to find to rare Brits, both 750cc homologation bikes, a year apart, both one of 200 and only minutes from eachother...to boot, neither owner was into them at all.
I wish I had the cash on hand, but alas I'm a rather broke mo-fo. However, I'd love to see these bikes get into the hands of folks that really appreciate them and have the will to restore them properly as they should.