Discussion Starter
·
#1
·
I've had several requests to do a build thread on this bike, but this project is pretty much finished after a year and a half of bustin' my ass during my lunch breaks and long nights on the weekend, it's running and been slowly breaking the motor in when I have the time.
Quick history on this build:
This is a super budget build in the $5-6k range which I only happened to go over about $500 bucks. Not bad. A local old machinist has a small horde of brit bikes in Indio, CA (yeah, Indio of all places) and met him while working for Mitch Bergeron. I finally talked him down to $600 after 4 months of negotiating.
This was my first time ground up build, cutting my teeth learning TIG and machining. Lots of trial and error, or trial and FUCK THIS, I'm not looking at this damn thing for a week.
What the basket case looked like picking it up.
Mitch demanding a pose on the newly acquired project.
Quickly stripping the bike down to asses the amount of work ahead of me. I was WAY off.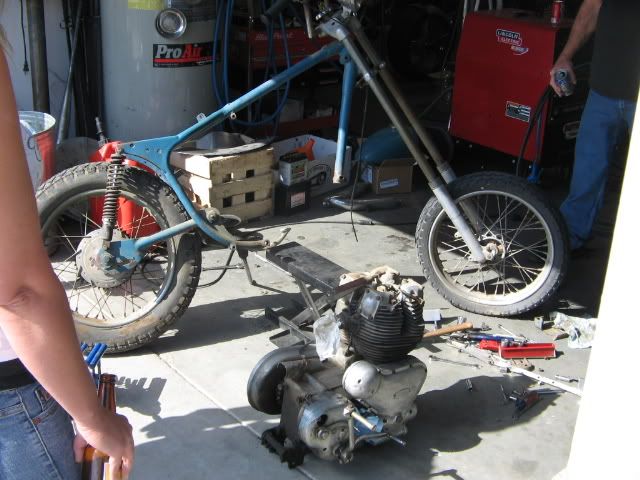 First order of business was tearing the engine down, and getting it cleaned and rebuilt with fresh internals.
Standard size bore that had been rebuilt , then probably stuffed away in the corner where I found it. Everything looked pretty good. I tore the crank down to find the sludge-trap clean as a whistle.
After a case of carb/brake cleaner and a scrub brush... and a massive chemical high, I saw the light, then blacked out.
Got the heads (and cylinders) looking from shit to shiny with a quick blast in the booth and lots of elbow grease hand polishing the heads.
After that was finished, I got the cylinders bored and honed, then set the ring gap. Then shot them with 4 coats of hi-temp gloss black.
Every single thing on that bike needed a good clean and polish. The timing cover was cracked and got that welded, sanded, then polished. Some before/ after pics, all done the hard way, by hand. Wish I had a decent bench polisher handy.
I have a feeling this will take me a while to post all the pics and procedure, so I'll do it in steps over a couple days.
Leavin' work so I'll continue this tomorrow.