Discussion Starter
·
#1
·
Hey guys, I think by now many of you know I'm into my Triumph project pretty deep and have an overwhelming amount to get done in order to ride it this season. I've ridden pretty much Triumphs exclusively and have had the itch to build and ride something a little different. I had never really ridden or built anything Harley and figured, what the hell, I'll give it a shot. I was looking to build something nimble, skinny, and lightweight. I've thought about it for quite some time and knew that what I really wanted for a power plant was a '66-'69 generator shovelhead. I did a lot of searching and was mainly just looking for someone selling a motor and 4-speed. I ended up finding a guy through Craigslist in Ohio that had a '68 genny shovel drivetrain for sale. The price was definitely right so I promptly gave him a call. I was asking him about the condition of the motor, if it was complete, if it was apart, how long it had been out of the bike, etc. He responded with, "It's still all together and still in the original frame, but I figured no one would want the chassis so I just listed it as a motor and tranny". I made a joke about saving him the trouble of pulling the motor and trans and said I'd take the whole bike for what he was asking for the drivetrain, to which he responded "It's a deal"! At the time I was in the middle of a corn field in South Dakota on a pheasant hunting trip, so I ran to the nearest town, picked up a cashiers check and sent it off. Within a week this crusty fugly little gem showed up at my house! It was about the ugliest genny shovel I had ever laid eyes on, but it was MY ugly genny shovel and I was elated! After getting over the initial shock of some of the weird decisions some of the previous owners had made concerning the bike, I started noticing some pretty nice things about it too. I actually posted some pictures of this a while back when I first got it, but once I actually took posession of it I kind of hit a wall. All these visions of a skinny little chop came to a halt. Not because I changed my mind about what I wanted to build, but I had figured I'd be buying a drivetrain and building my chop around that. I didn't anticipate getting a nice uncut frame, swingarm, complete wheels/brakes, front end, complete electric start primary, etc. Once I realized how easy it would be to build a nice semi crusty swingarm bike with electric start, some sweet original early shovel 3 1/2 gallon tanks that I had gotten from Dragon, and big fat 16" tires front and back, I had to rethink my plans. If there are small children or pregnant women in the room with you now, or if you're not really feeling 100%, this would be the time to look away, it's not pretty!
Butt fugly bike, but it was CHEAP (I mean REALLY CHEAP!) and had loads of potential. Main thing was it had a really clean '68 motor and trans, which is really what I was after in the first place.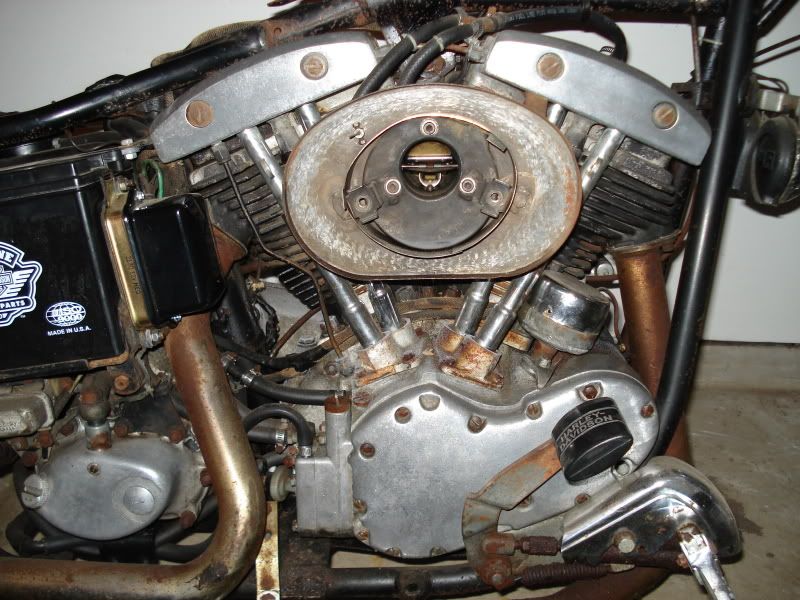 The best part of all, the "custom art" on the really poorly fitted gas tank. Pretty much somes up the build "PUT YOUR ASS ON SOME CLASS"!
Well, I thought it over......for about 2 years! Someday I'd love that semi stock, stripped down swingarm genny shovel, but what it came down to was what I really want to build is that skinny little chop of my dreams, so long story short, that's what I'm gonna do.
Last summer I ended up driving out to the AMCA show/swap out in Wauseon, OH with my good buddy Pete. We had a great weekend and found some awesome treasures. My favorite by far was this 30's Harley VL front end that was tucked out of view under someones table. Everyone was walking right past it. Honestly, the only reason I saw it at all was because it looks like some farmer back in the 50's brush painted it red! Again, it was super clean, not a stitch of rust anywhere on it, straight as an arrow, and the red paint did a really good job of preserving everything, even the original black paint underneath looks to be in great shape. Got the front end on the super cheap, cost me about what most guys are selling bare, kinked, twisted, rotten front legs with no rockers for so I felt like a champ carrying it around the swap meet! 100% complete and runnable!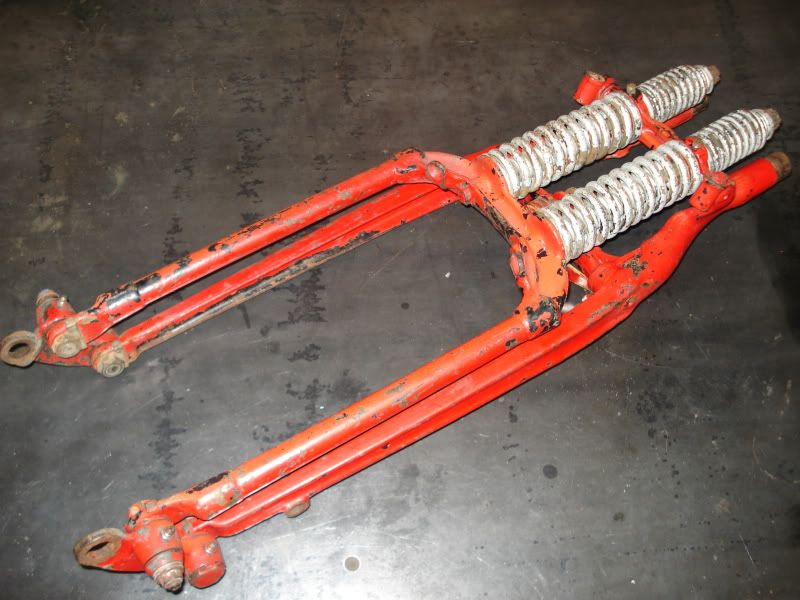 Once I scored the front end I spent the rest of the weekend looking for the right frame. Wasn't sure yet what the right frame was, but I knew I either wanted a nice wishbone frame or VL frame. I knew that if I ran a wishbone I'd more than likely end up having to do numerous repairs to the frame and I'd end up having to swap the original 1 1/8" neck stem out of the VL springer for a 1" neck stem to fit into the wishbone. I knew that if I decided to go with the VL frame, I'd have to do a fair amount of fabrication to the frame to accomodate the genny shovel motor. Either way, it'd be work, but it'd definitely my kinda work! I searched and searched all weekend and ended up going home with an awesome front end, some great memories, but no frame. I knew that the Davenport, IA swapmeet was just around the corner so I saved up all my pennies hoping I'd find a frame there. For some odd reason, the guys that had the frames at the Wauseon swap had the same exact frames at the Davenport swap.....but the prices had doubled. Weird, but at any rate, once again came home with no frame. A couple months later, while doing my random Craigslist searches again I stumbled across and ad for a "Chopped/Modified Harley WL Flathead Frame-$275" in Ames, IA. I couldn't resist clicking on the link to see what monstrosity of a frame awaited. What you see before you is the supposed Chopped/Modified Harley WL Flathead frame. It was an absolute cherry VL frame. The guy that had listed it was bummed because he had bought it from a guy in CA that sold it as a 45 flatty frame and when the guy in Ames, IA received it, he quickly realized that his 45 motor didn't fit in it. He assumed that it was indeed a 45 frame, but that had been all cut up and that was why nothing lined up with his 45. The fact of the matter is, it was an absolutely perfect VL frame! No rust, rot, pitting, cuts, repairs, nothing. Absolutely perfect. Turned out the guy selling it to me needed a sportster gas tank for a different project so he hand delivered it to my house from Iowa in exchange for a crusty old sportster gas tank!
You get the idea!:
I'll update this as I'm able to throw parts at it, but it may be a little slow as I'm dying to ride my Triumph this summer and have a ton of work to do to get it all wrapped up. Stay tuned!