Discussion Starter
·
#1
·
So...
I picked up a 68 chop a few weeks ago and finally got a chance to work on it for a few minutes. The wiring was a mess so I found this diagram for stock points wiring and wired my bike like this. I gave it several kicks and see NO spark... so I am wondering a few things:
1. Does this diagram look good for a stock ignition setup?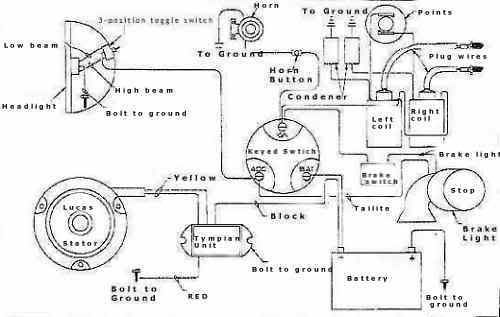 If you have a better/easier diagram I would love to see it. Just remember it needs to be for a neg. ground, points bike with the tympian unit (what does it do by the way?).
2. How do I test the individual components of the ignition (coils, tympian unit, etc...). I have never worked on a brit bike (mostly Jap) so I am a total newb when it comes to Lucas and his AMAZING electrical
3. I would like to get the bike running using the stock components, and then I will probably switch it over to an aftermarket setup. What do you guys recommend... Boyer, Sparx, ???
Sorry for the "dumb" questions but I have to learn sometime. Please no suggestions just to scrap the existing ignition and start fresh, I want to make sure that the motor is OK before I purchase any other parts. Thanks in advance for the help... Cole