Discussion Starter
·
#1
·
Hi guys, Anders is my name and I am new to both this forum and vintage bikes. I´ve been riding sport bikes up until now (tuned Hayabusa) but as I want to spend more time in the workshop than on the road I figured that I needed a change of machinery. The damn jap fours never break down!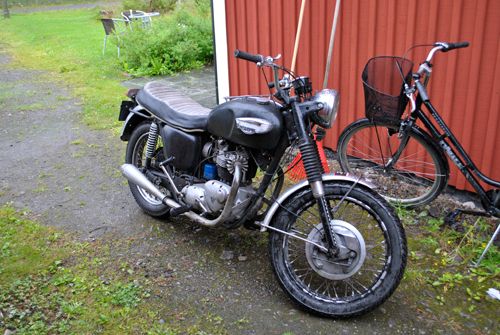 I dug a hole in my workshop funding and bought a Bonneville -67 with a NOS 750cc kit and some other reliability-enhancing mods like external oil filter and a new set of bearings in the engine. I took it for a 150km maiden ride and almost missed a friends wedding since I had no idea that I couldn´t have the light switched on while trying to start it. After pushing it up and down a hill for 30 minutes it started the same second as the throttle wire snapped...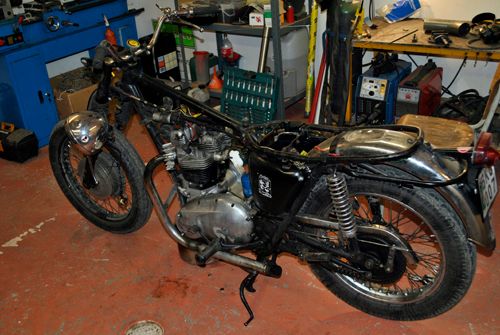 Needless to say I had to give it a complete overhaul before I dared take it on any longer trips again, the wiring had seen better days and I had some plans made up for it so I started taking it apart.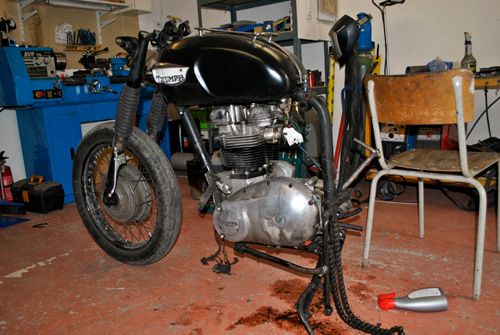 The most gorgeus bike style in my opinion is the bobber, a minimum of parts which are mostly home made and looking like it has been stored away in a barn for the last 20 years was the look I was after. A 2" stretch 2.5" drop hardtail was ordered and while waiting I gathered up some bike parts I had laying around the workshop that might just fit.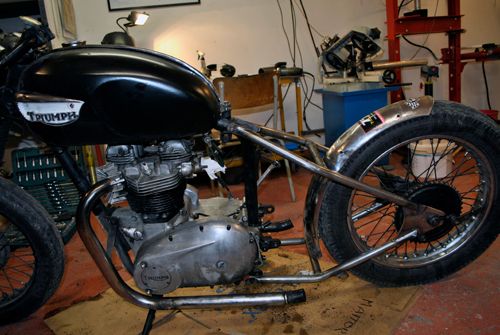 When the hardtail arrived I eagerly bolted it on and threw some other stuff I had found on as well just to see where this was heading, I had some handlebars from a Skidoo REV 600 snowmobile that I inverted, shortened some and bent a bit on the hydraulic press, a set of home made headlight mounts from my old turbo-GSX750 build and used the front fender as the rear fender even though it needs to be widened 10mm to fit the tyre.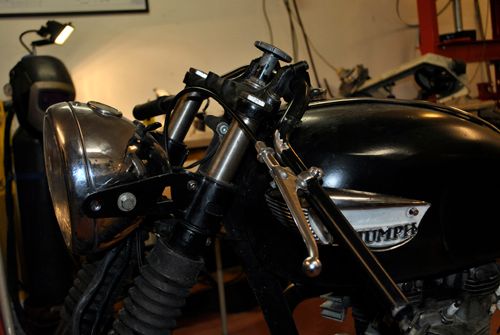 It actually started to look like the image I had in my mind so I continued by cutting out a seat pan.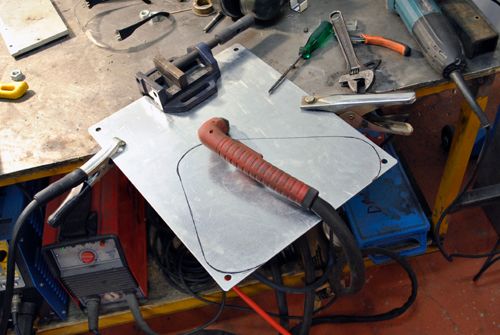 An old hinge from the dog house gate became the front seat mount, when I have welded the spring mounts in place I will glue some foam to it and dress it in leather.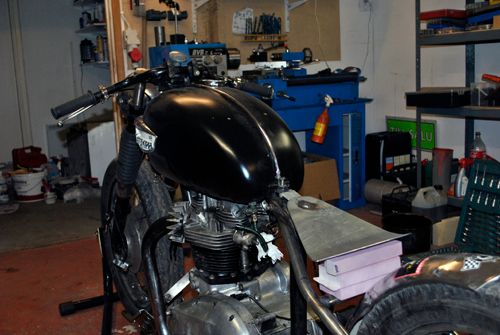 The handlebars turned out really well, the best part is that I can use the original steering head without doing any mods to it. I won´t do anything to the bike that cannot be restored to its original state in case I would like to one day. It wouldn´t feel ok to destroy an old vintage bike.
With some styrofoam blocks under the seat I took it outside to see it in daylight and get some footage of the driving position, my feancee gladly helped out since I think she secretly disliked my 176RWHP Hayabusa.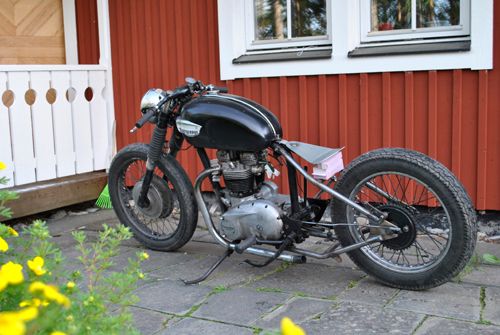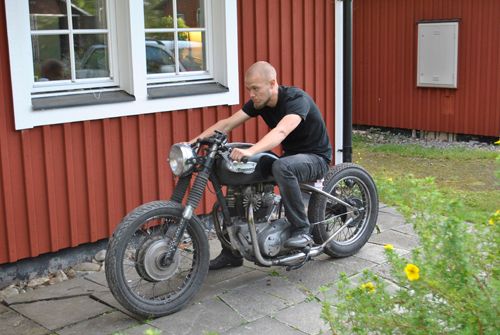 As you can see I haven´t lowered the front yet, and the more I look at it the more I think I will keep it this way. The inverted handlebars makes it look pretty low in front anyway and the hunchback-look it gets with the tank as the highest point isn´t bad.
Back in the shed I took out an old 3 litre fuel tank from an old Brittish 2-stroke engine, I found it years ago on a local scrap yard and knew that some day it will come to good use.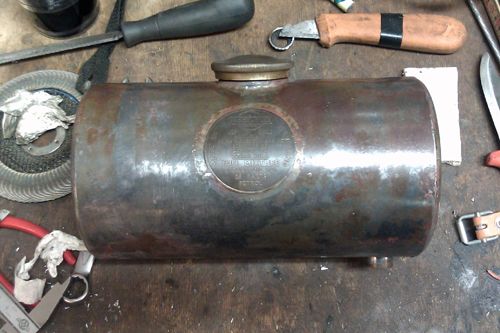 Almost every Triumph bobber has the oil tank fitted sideways under the seat, I considered this first but dislike that I will have to remove the seat to check the oil level. A loose drivechain might also wear a hole in the tank if it cannot be mounted high enough so I found an alternative place to fit the tank.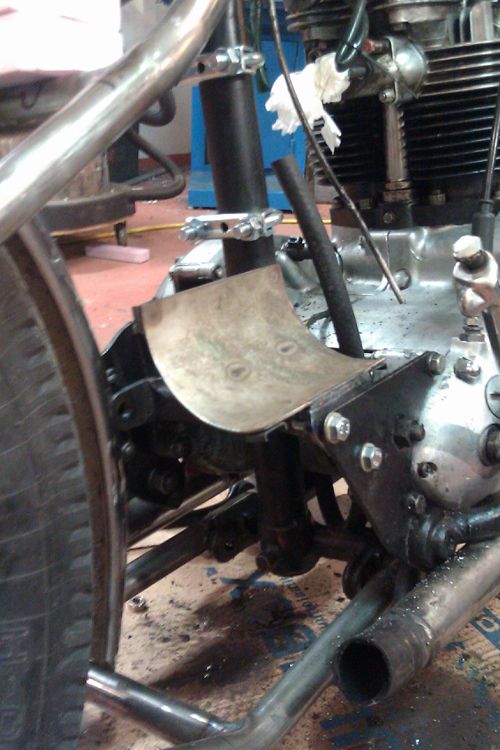 A pair of leather straps and a sturdy mount hidden behind the tank gives it a nice vintage look, I haven´t decided whether I should paint the tank black or leave it as it is yet.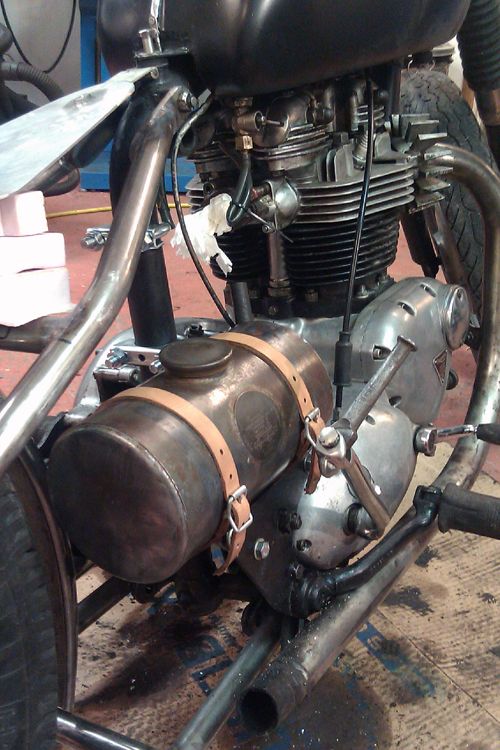 This is how far I have come since I bought the bike a couple of months ago, right now I am waiting for a Sparx module and some other bits and pieces for the ignition from Lowbrowcustoms.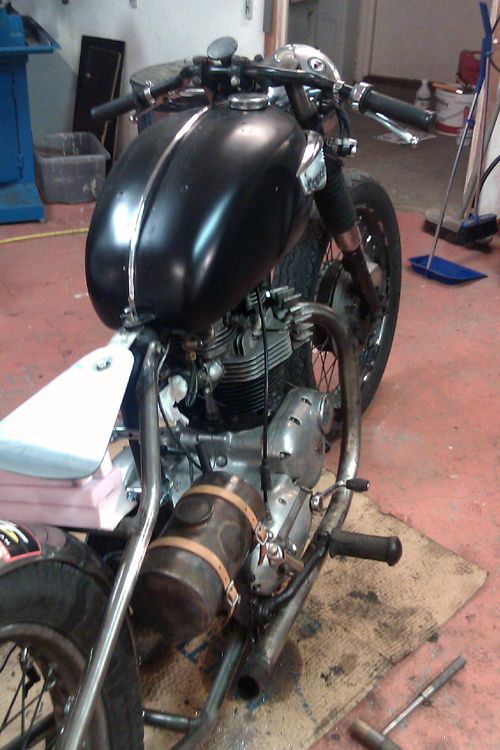 Thanks for giving me the inspiration to start this build and tonnes of advice in the various threads here!
Best regards //Anders Johansson - Sweden