Discussion Starter
·
#1
·
I'm currenty 14 hours away from my bike with little hope of seeing it before Thanksgiving. I left for school last Thursday, finally switching from my daily driver Trumpet(4000+ miles since May and it
never
left me stranded on the road) for my beater truck for the 14 hour trip from South Jersey to Terre Haute, IN to get myself an education. The problem is, though, that I had assumed Indiana would be less interesting riding than Jersey and in the limited time I've spent off campus, it's been hills, curves, and reasonably high speed limits. This has been making me miss my bike more than I'd expected and the hours of time spent sitting around instead of scratching my itch roaring around the countryside haven't been helping, either.
I built the bike last winter pretty much stock to look like this: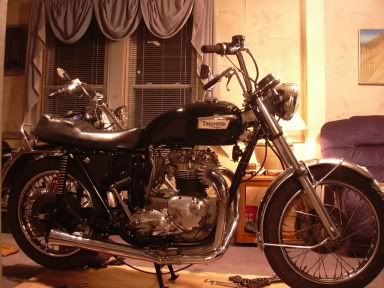 I sheared three teeth off the mainshaft first gear in early July and, while riding my dad's chopper seen here:
http://img.photobucket.com/albums/v199/zezozeceglutz/DSCN1491.jpg
I got the bug to bring it closer to my vision of what a Trumpet should look like. I chopped the fenders, dumped the brick of a taillight, went for a mag, rewired to dump the battery, got lower european style bars, and scrapped just about everything I didn't need. Everyone calls it a bobber, but I guess I'll just have to accept that. Here are a few bad shots of it: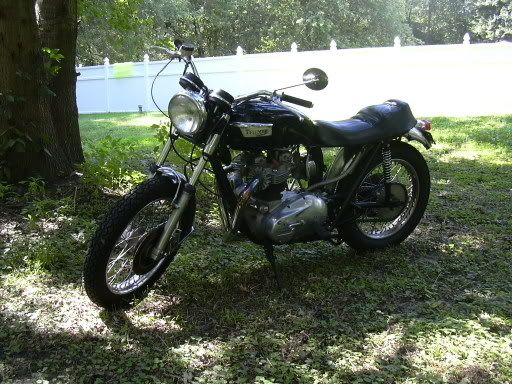 My dad's a truck driver and mentioned earlier in the summer the possibility of getting a load out here and back if I have any sort of emergency and, as I rider himself, I can probably get him to bring it out here if I can find a safe(from the elements, not so much the people...there's a kid riding a 70's jap bike with Vermont plates parked in the same lot, but I couldn't do that to my baby.) way to keep it on campus(back of the beater pickup with a cheap bike cover is starting to sound pretty good.)
While I've been sitting around, I've been admiring all the clean Ironhead chops around and, as the owner of a Trumpet, I'm already a bit of a masochist so, naturally, I've been looking at ironheads. Can anybody weigh in on whether they're more or less likely to leave me stranded/ require frequent new parts/ get me laid?