So i have this '74 R90/6 .. i was planning on doing a cool custom cafe bike with it.. but i ended up starting on my pan instead.
I started looking for pics online trying to get some ideas and to see if anyone was making parts. I came up with a few good ones.
I was thinking that i could make a monoshock rear end for it.. maybe steal one off of a sport bike and mount it to the double loop frame with a custom bracket. But i got to looking at the swingarm. Its a one piece integrated swingarm/driveshaft. That causes some design issues.. because the housing for the driveshaft is cast aluminum.. and it has bushings and seals at either end and integrates with the rear drum.
The other thing is that the gearbox resides attached to the rear of the block and the block is long.. which fits right where a seat post would go.. on a harley style frame.. so that would make some interesting arrangements and modifications for the frame.
This cafe/sport kicks ass..
As does this one...
This site has lots of interesting ideas..
http://www.rockerboxer.com/page/page/1414315.htm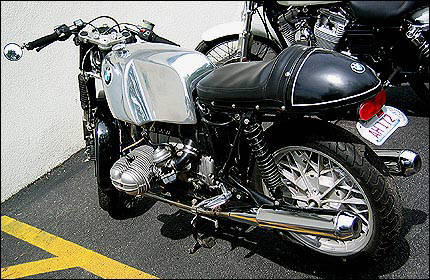 I had some pics laying around here.. one dude did a west coast chopper style bike with an R90 motor.. it was freaking cool.. the exhaust pipes came up.. crossed over making an x in front of the front frame down tube.. then swept back over the heads...