Discussion Starter
·
#1
·
Ive been a lurker for a long time, but since the only American Iron i have owned have been Ford flatheads ive stayed out of here.
But yestarday i brought home a 76 Shovel, And i will probably have a lot of Dumb questions.
To begin with i will get it up and running, and thru the Swedish inspection, before i do any improvments.
Ive been it to cars most of my life , but i have had some bikes to a velocette BSA A7 a couple of yamaha XS 650's, Honda k2 CB750, Kawasaki 900 1973. But now it was time for a Harley.
Ive also tinkered with a 27 litre Rover Meteor V12.
here is teh first startup
http://www.brandow.eu/V12/film/ItsAlive3.MPG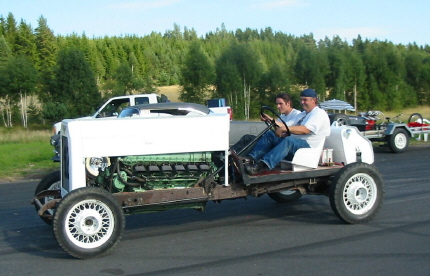 Currently im trying to drive the wheels of my 33 Roadster, that is repared not Restored.
Anyway there is some more about me here
www.brandow.eu
Oh yes here is some pictures of my new motorcycle. had to take it for a spinn when i got it home. Will fix the rear brake as soon as possible. And put on original handlebars and a buddyseat so i take my wife for a spinn.