Discussion Starter
·
#1
·
It came to a point when building my '71 BSA A65 that I needed to put the pistons in the jug.I have many ring compressors but none that would fill my need for the BSA. One day it hit me like a ton of bricks. The 3 inch plastic pipe I was using at work would make the perfect ring compressor. And it did! My pistons measured 2.980 inches and the ID of the pipe about 3.030.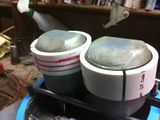 I cut 2 slices of plastic pipe 3/4 inch thick.
Then I made a cut in these circles to allow me to spread the plastic pipe over my rings. After both plastic pipe compressors were on the pistons, I just pushed the jug down onto the pistons.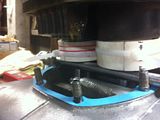 So now all that was left was to remove the plastic pipe.That was real easy and I can use them some other day as well!
Anybody else come up with cheep and easy tools?