Discussion Starter
·
#1
·
Hey everyone,
From looking through the threads it seem many of the people on here like picture threads so ill do my best. I am fairly new to harleys so tearing into this project blindfolded was out of the question for me.... so i did what anyone would do in my position... i go my work to buy me an ipad
and i have basically taken pictures of everything during the tear down (so i remember where everything is supposed to go)... and will continue to do so for reassembly. I have not even opened a manual for a shovel head yet and by my steller use of common knowledge and leverage i got the bike down to a bare frame in a matter of about 6 solid hours. I didnt run into any issues at all in this process. I am not OCD by any means but i use nitrate gloves when i work... and basically i would take a picture of my progress once a pair of the gloves were beyond the point of use lol...
Anywhoo ill shut up and start posting a bunch of pics
this is the bike as i got it... 1980 fxe wide glide... +4 over stock yuck... had some godawful apes on it too so those got remedied..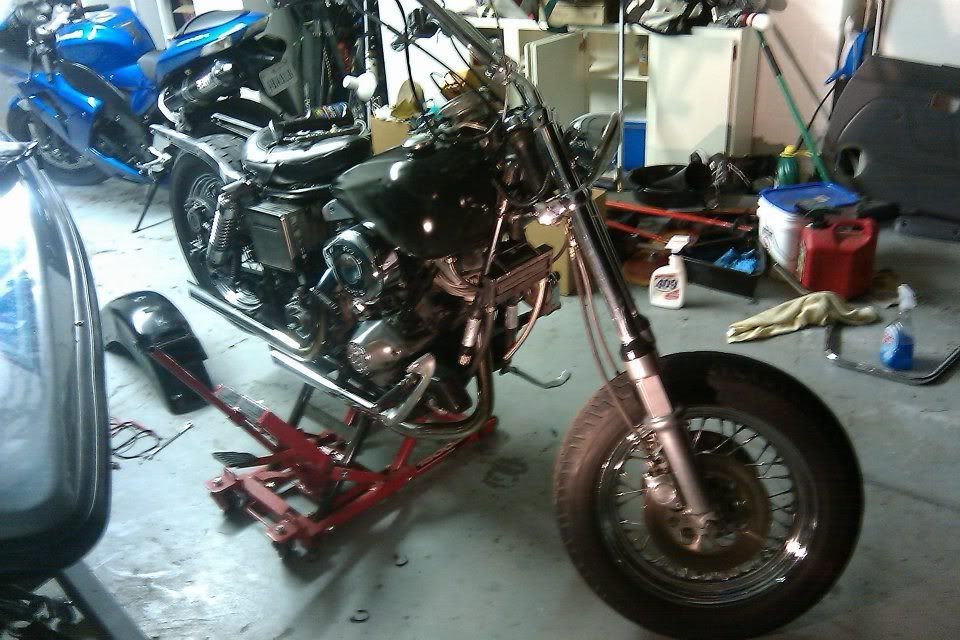 i broke down and got some 19-3/4" fork tubes and slapped em on there to ease the pain (knowing it was all coming apart anyway)
i figured the biggest bitch would be the primary so i started there
the only special tool i needed to buy for this whole tear down was a 1-1/2" socket 1/2" drive... autozone ftw at 7.99 its hard to beat... buzzed off the normal thread compensator bolt via BD electronic impact gun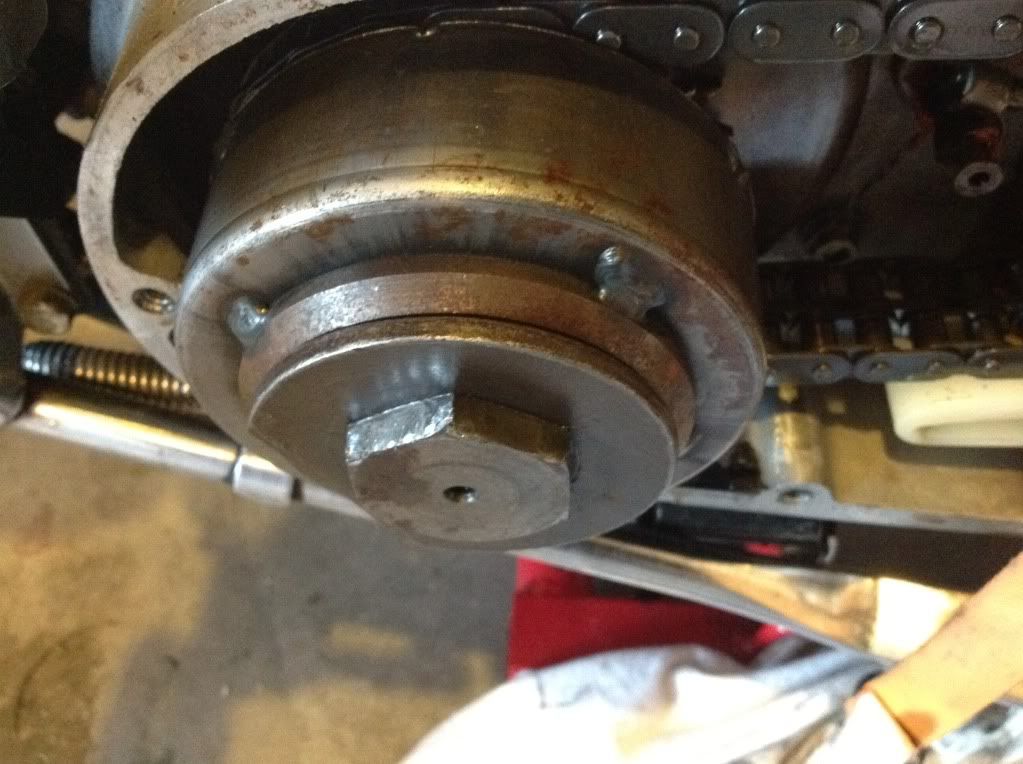 The scariest looking thing in the primary was the clutch pack/ basket with all the springs... turned out to be easy as hell to take apart.
This bike sounded like Shit when trying to electric start... i figured this explains that funky noise...
got the spring retainer plate off and pulled the throwout push-rod out of the trans... now it was just a matter of pulling the plates and friction disks out...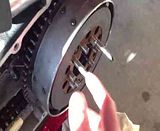 It was now time to loosen the basket nut (reverse thread) some may frown or call me an idiot for doing this but i used the barbarian way of removing the basket... and honestly it was much less invasive than i thought.. essentially i got the biggest flat head i had, set it to slightly pry the back of the basket against the inner primary back wall while i tapped on the loosened center nut with a mini sledge... (very light taps were all i needed to do) and it came right off zing..
I treated myself to a beer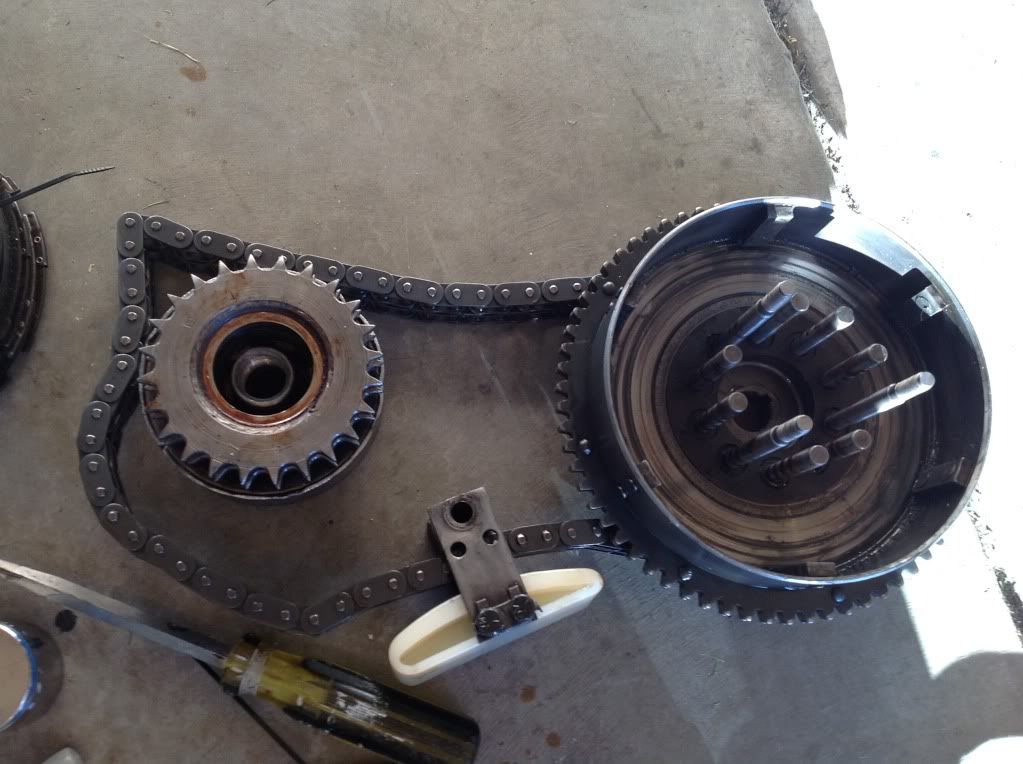 the bolts to take the inner primary cover off were fairly simple, the P.O. must of had some mechanic wire tie the front bolts (assuming this is common?) so ill plan on doing that again on the reassemble...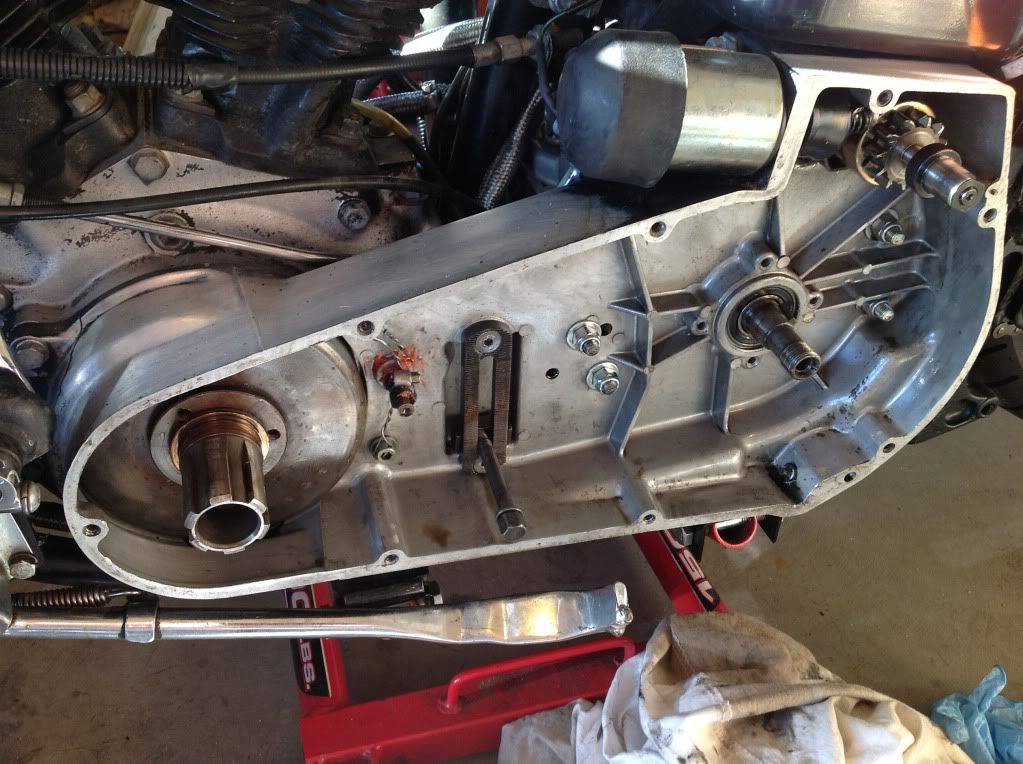 and the inner primary is off
Ill post more tomorrow... tired as f' and i might have jury duty tomorrow so im pissy