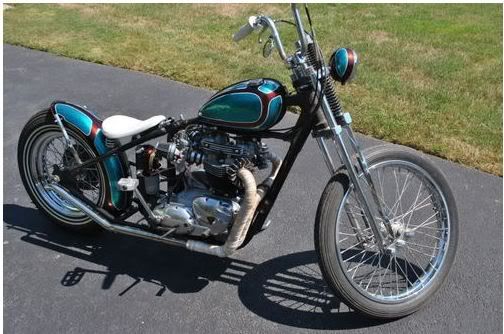 | | |
| --- | --- |
| City | Collegeville |
| State | PA |
| Price | 6800obo |
Posting this for a friend. You can contact him directly but here's what he has to say about the bike. It's up on ebay but he is also selling it locally and can end the auction early.

1967 Triumph Bonneville Chopper. less than 300 miles on a rebuilt motor by BCF Cycle, a vintage British bike shop in Ohio. Kick only. Boyer Ignition with battery eliminator and keyed ignition. Starts on first or second kick. Mikuni Carbs, stainless 2 into 1 exhaust. Custom oil tank, Bolt on hardtail. 16" HD rear wheel mounted to a triumph hub. new firestone double whitewall tire. 21" spool wheel with avon speedmaster. After market HD twisted springer front end/ with custom stainless rockers. Rupp minibike bars with white grips. side mount license plate with antique car light as a tail/brake light. Fluted glass head light, that will accept an halogen bulb. cool old wassell, twisted fender struts. the fender was narrowed 1 inch to betterl fit the tire. white diamond pleated seat. all new cloth wiring runs through the frame. the chain tensor you see in the pictures is no longer on the bike.

Paint was done at House of Kolor, two tone paint in candy rootbeer and blue. There is a light lace pattern, and a hand pinstriped white outline on both the tank and fender. there is a small chip on the tank about a 1/2 inch long which I am still trying to figure out where it came from.

We are expecting our second child and I have to let it go

I have spent a lot of time and money getting this bike to up speed. The motor has been solid through out the time Ive owned it. The front end was rebuilt, the rear was rebuilt and all the wiring in between has been gone through and wired correctly. I have invoices and receipts for all the professional work that has been done to this bike. It is currently running strong, sounds good, and is clean a whistle. this bike draws a lot of attention whenever your out on it. And yes I have a clear PA title. it is titled to the frame. the bike is being sold as is,with no warranty and the buyer is fully responsible for shipping/pick up.

His name is Chris his number is 610-761-8927 you can contact him for more photos. I can't post the link here but search Triumph Chopper on ebay for more.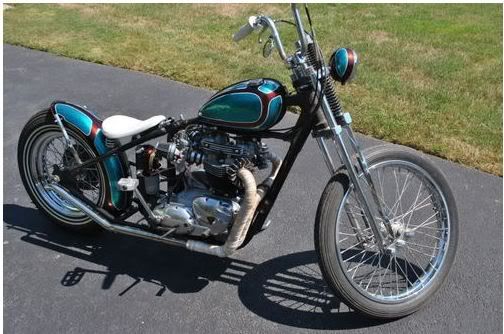 See less
See more
This is an older thread, you may not receive a response, and could be reviving an old thread. Please consider creating a new thread.