I bought a Harley and the previous owner had fork tubes that were +4" in length. The Tech archives and the search function have a number of helpful postings and after reading several they convinced me there was an easy fix that I could tackle myself.
https://www.jockeyjournal.com/forum/s...ad.php?t=12391
https://www.jockeyjournal.com/forum/s...ing+fork+tubes
I do have a manual but the process is very simple. One thing I would have liked was some pictures before I started just to get a bit familar with whats inside the forks so I thought I would post for others who might be as unfamilar as I was when I started this little project.
Bike on a lift so front tire just clears and turns freely. Remove front fender. Loosen axle nut. Remove bottom screws on lower fork, remove axle, wheel comes free. I have a drum brake up front and had to remove from lower (it "hung from cable--no load --sat nicely balanced on milk crate. Remove top nut (mine just cleared bars when they were loosened).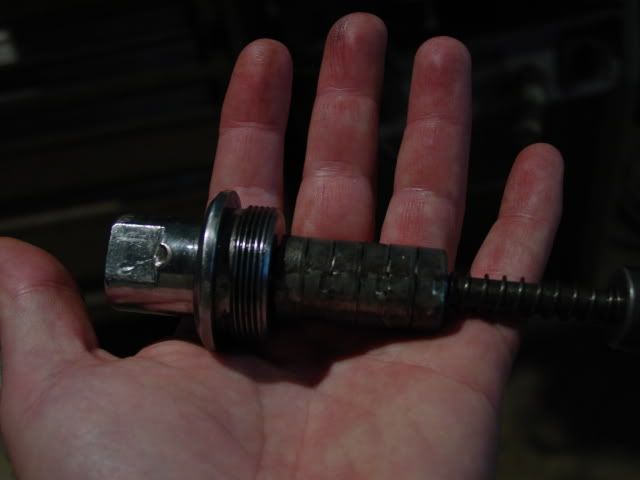 Loosen lower triple clamp nuts both sides and tubes w lowers can be removed (mine came with twisting back and forth persuasion after I tapped a short metal wedge in the lower triple slot to ever so slightly spread it.) Dump oil , lift out spring. There is a nut in the bottom of the lower that once removed allows the tube to be removed from lower. Then in the bottom of tube there is a snap ring.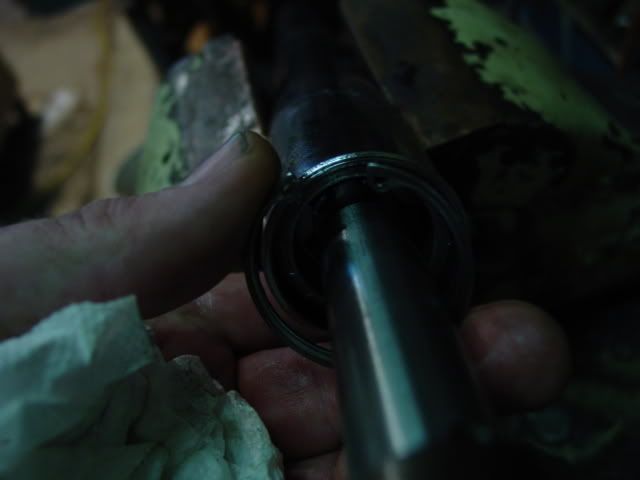 Take out the snap ring that lets the rest come apart and it looks like this:
On the far right in the picture above is the "threaded stud" that the nut on the bottom of the lower is threading onto that holds this "shock portion" (my term not necessarily what its called in your manual) tight to the lower. You have about 30 maybe 45 minutes invested so far.
[excuse the bench top]