So I have been here a little while without posting up my own photos, I believe I got it figured out.
This bike is a redesigning of the one bike I always dreamt about riding when I first got on a bike, that I first built five years ago and have beaten every day and across the country, even through Wisconsin winters every morning when I didn't have a truck. She first had an 86" mild stroker with an Andrews BH cam. That was nice, but when I lost an oil line in Kentucky once and ran her out of oil, I needed new cylinders and pistons anyway, so I picked up some S&S big bore. I told the engine builder (the local wizard) that I would be riding it every day but would like as close to one of his old drag bike engines as he could get me, given some sacrifices for reliability. He wound up having an old S&S .495 sitting on a shelf, and I went with that. The last three years have been a blast. Nobody has been able to outrun my old girl at the stoplights, and I am lucky to be alive for a few of our adventures. But this year it was time for a complete overhaul. Last year I got a new Paughco frame because the old hardtailed stock HD frame had been broken and welded too many times & I was sick of moving around the stress point. Again since I was getting a new part, it was time for an upgrade. After using trigonometry for the forst time in my life I decided on a 40 degree rake for my 4" over old wide glide. But the frame showed up almost a month late, and I had no time to finish my fabrication ideas and instead bolted it back together in the new frame (with the minor mods necessary to do so) and rode her around bare metal until December.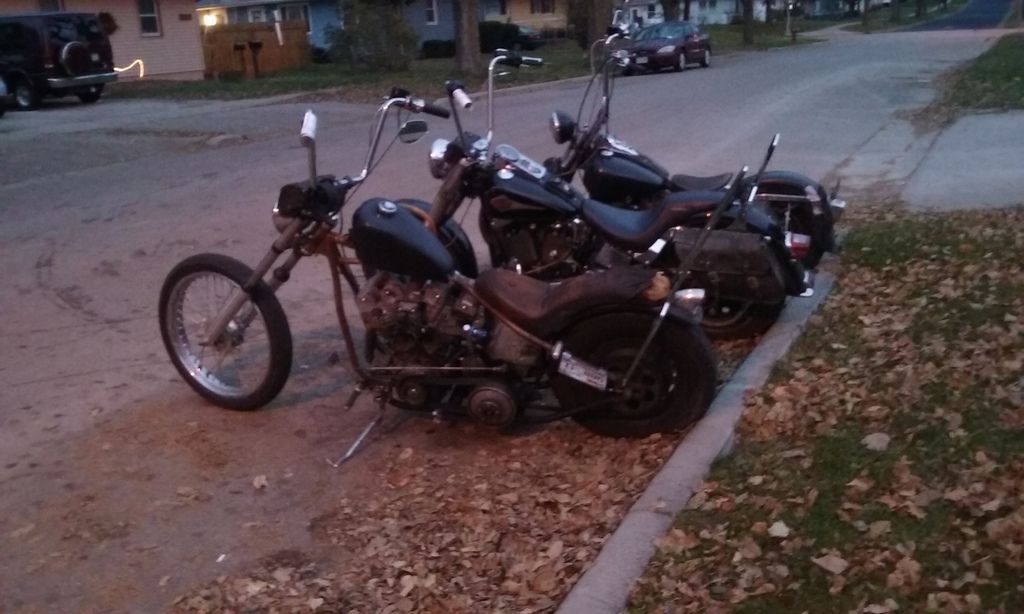 The engine has gotten to leaking pretty good frome the base gaskets and the rat-bike compliments were bothering me. I had my frame and a Dick Allen inspired springer I machined up final welded and painted black imron at my buddy's shop. When I tore into the engine my cam was about to fail and I am luck I caught it. Running theme repeats itself and since I need to replace a part, it is gettimg upgraded. The .495 S&S cam with its long duration and overlap made for easy kicking and lots of fun in the higher rpm band. But the wizard's knucklehead dragbike had a Leineweber, and I have been obsessing over the day I finally got to try one. I got an L51, very similar to my old cam, but .013" more lift, a bit less duration and as much overlap. Once the new rings get broken in she should still be easy kicking, but the power should come on just a little bit sooner than I am used to. Plus those opening/closing ramps excited me.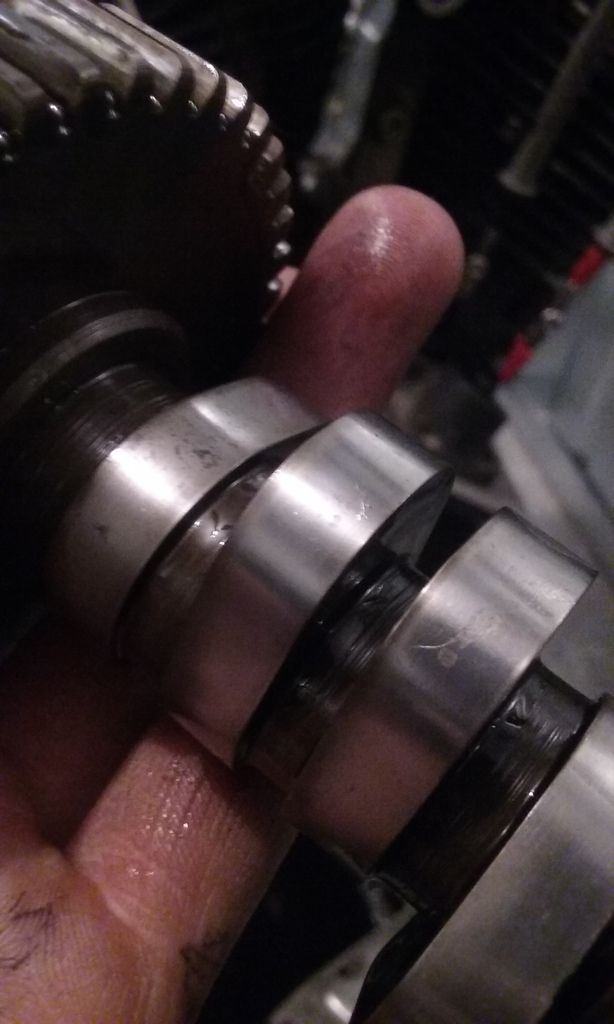 Damaged lobes on my old S&S.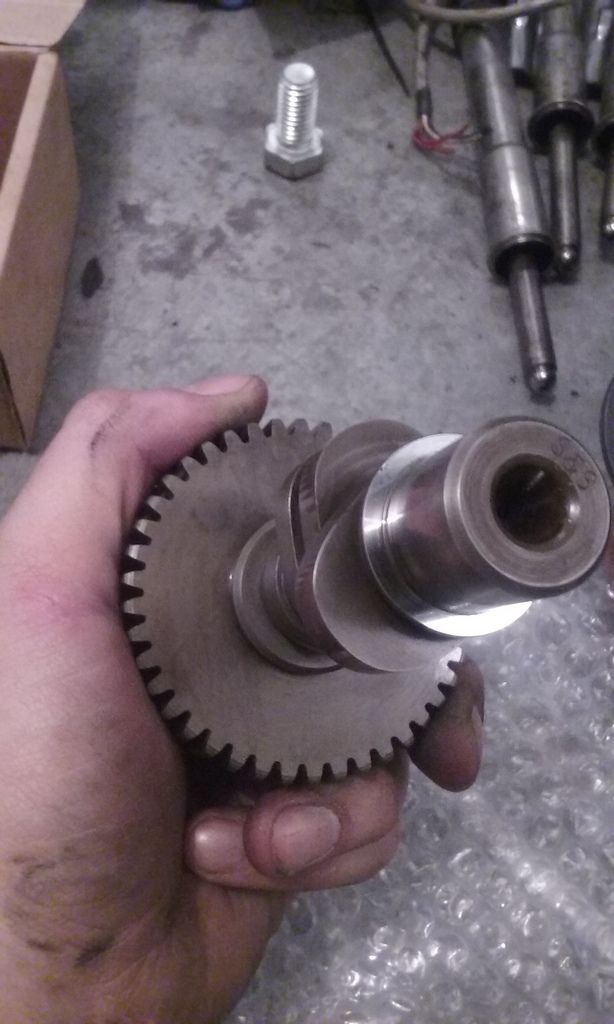 Old .495 profile.
New Leineweber pofile.
Another new thing with this rebuild included a total valvejob. New valves, seats, guides, seals... everything. I have been told many times that I am hard on equipment. Three years and so much damage? I guess 50,000 miles with a retard holding the throttle will do that. This year however I am trying my damnedest to break her in gentle. I want a few more than three years this time.
Frame with fresh paint.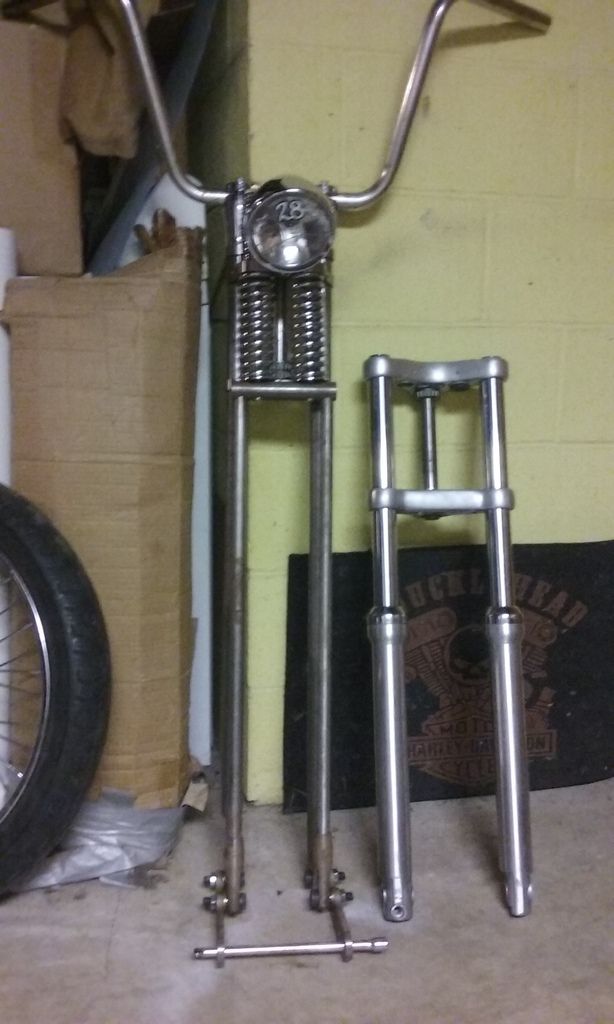 And a teaser of my new front end, just for Jaws. The world needs more longbikes, and before I make the 25"-over rigid fork I had to give my beloved chopper the springer she had been yearned for. 8" overstock isnt all that long, but with my frame set up for a 4" over glide, it was the longest I felt comfortable with because I wanted my bike to still sit low.